The Dulzura Desperados held their December match with 13 shooters braving strong gusts of wind. Shooting had to be stopped on three occasions to retrieve hats that were blown off. J. B. Corn's hat came within a hair breath of being ventilated. True Cowboy poise was demonstrated by Lucas Sagebrush who caught his hat midair and still continued his pistol shots without breaking stride.
First Place – Buck Garrett
2nd Place – J. B. Corn
Third Place – Eeyore
There were no clean shooters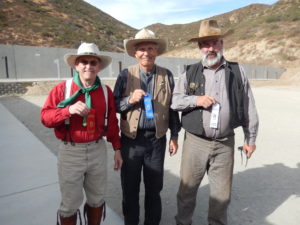 OVERALL MATCH SCORES: Click on link below.
match finaltt Main Match 12092017
SCORES BY CATEGORY: Click on link below.